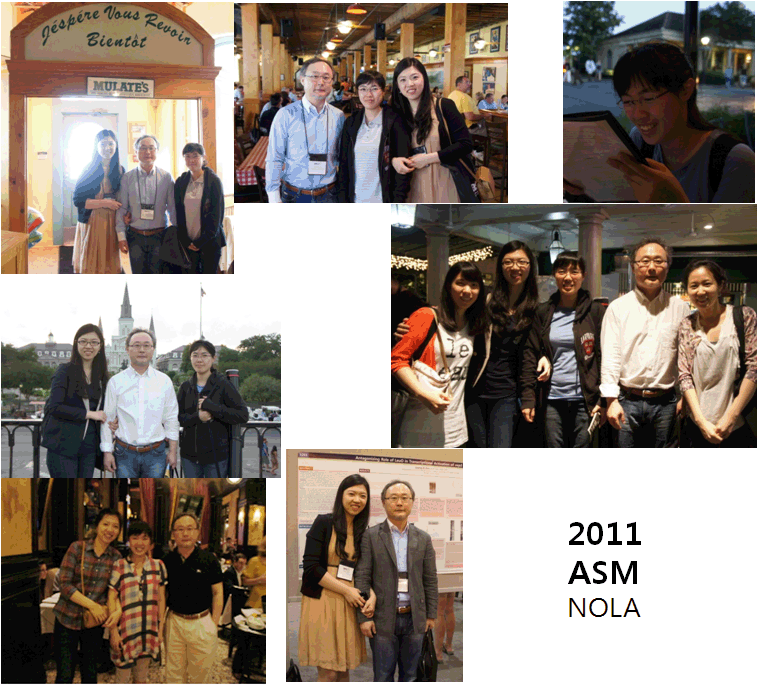 111th ASM Meeting.
2011년 5월 21 ~ 24일 New Orleans, LA
(연대 환경의생물학 교실 소속 이혜연, 양유진도 함께)
- 이경조 Lee, K.-J., Y.-S. Han, K.-H. Lee. 2011. Repression of the Immunogenic Lipoprotein A Gene Expression by Multiple Transcription Factors in Vibrio vulnificus.
- 김정아 Kim, J.-A. and K.-H. Lee. 2011. Antagonizing Role of LeuO in Transcriptional Activation of vvpS gene by SmcR and CRP.
- 김한석Kim, H.-S. and K.-H. Lee. 2011. Role of a Quorum-Sensing Master Regulator, SmcR, in Biofilm Formation via Induction of Capsular Polysaccharide Biosynthesis in Vibrio vulnificus MO6-24/O.